The best trip I've been on so far - and why not?? It was
*completely*
funded by HP. Serious - even booze was sponsored by someone - so I did not have to shell out even 50ps on the whole trip!!!! Howzzat??
Let me start off with the narration. We were 13 of us travelling and we had 2 vehicles - a Mahindra Scorpio and a Ford Endeavour - perfect vehicles for a journey like this!
Our Road-Beasts!

Meeting place was Banashankari Temple on kanakapura road and everyone gathered there at 6-30AM, friday. I went into the Scorpio, 'cos it had a CD player and a LCD screen :D. On the way we watched the movies "Meet the Fockers" and "Bourne Supremacy". We had a breakfast stop at Kanakapura at 8-15AM. There's a hotel called "Vasu hotel" - make sure you go there to eat masala dosa - simply great!! The next destination was Shivanasamudra falls. We reached there at 9-30AM after 1-2 bio-breaks. There was absolutely no one at the falls. A few of us decended the rocks to reach the foot of the falls. There's nothing that can describe the tiny water droplets gently splashing against your face. We sat there for about half and hour and then we had the arduous task of climbing up the terrain! Man, all the breakfast was completely burnt up!!!!
Then we started to our final destination - Wild valley farm. The roads were pretty okay, mainly due to the kind of vehicles I must say - scorpio and endeavour are great beasts of the road! We had a jungle area check-post to go through and then it was just wild jungle roads for about 20KMs. Finally we reached there - it was 12-30PM, the tents were already in place and there were large lush green areas, surrounded by hills on one side and thick forest cover on the other. We had lunch and relaxed till 2-45PM. Then we set out for our TREK!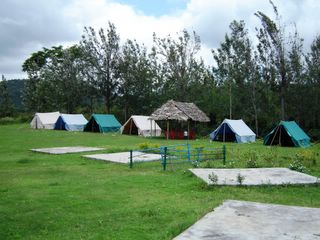 Our tents - forest behind the tents!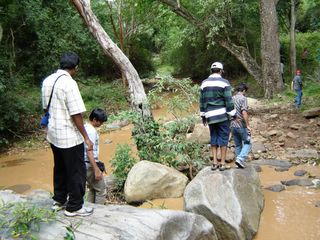 On-going trek - in the wilderness!

We had to walk through dense forest cover and then climb a hill. It was totally 20KMs to and fro! By the time we reached the top of the hill we were all dog tired and had finished up all the water!!!! But the sight from the top of the mountain made us forget all our weariness. We sat there looking at the vast valley for about half an hour. We ate some chocolate bars to give us energy for the return path. It really was a wild trek - we slipped in so many places and bruised our knees, had mud patches on our clothes, etc - but it was great fun and adventure! No one ever complained.

Yes! We conquered this hill!!!!

We returned back by 5-45PM and everyone had a hot bath. The water was heated by burning wood. Its somewhat different from the electrically heated water and is more relaxing. As the sun went down and it started becoming dark, we lighted the bon-fire. Oh, did I tell you that there's no electricity anywhere except the toilets? Yeah - no lights anywhere. The only light was of the fire and fire-flies which were present in abundance! The night sky appeared so clear and we could see millions of stars so clearly. Its impossible to get such a view of the clear night sky from the city. Here, there's so much glare of lightings from the city! What happened for the next two hours is edited here :D - All I can say is that it was a long drinking session!

Place where we had camp fire

We had dinner at 9-30PM and went to bed at 10-30PM. Most of the people slept peacefully - somehow I could not sleep for a long time. It started raining at around 2AM. Avinash foolishly touched the inner tent fabric and it started dripping water in our tent!!!! I managed to get some 4 hours of sleep after 3AM. It had rained the whole night!!!!

We had plans to trek in the morning too - but was cancelled due to heavy rains overnight. We played volleyball and cricket instead. We all were so focussed on playing - it was not until the next morning that we felt the effects. I could have counted the number of bones in my body by counting the bones that were paining!! All I did on sunday was sleep and relax at home. We had lunch at 12-30PM and left the place at 1-30PM. We reached back at 6PM after some peak driving at 120KPH!!!!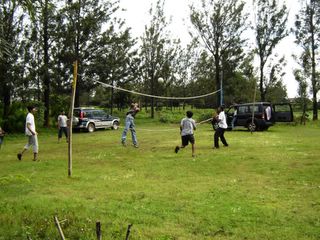 A game of volleyball

Cricket pitch - Good campaign for the movie 'Iqbal'??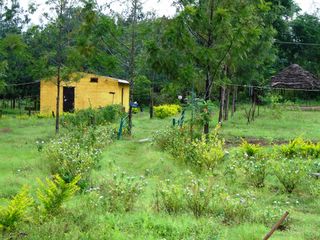 Does'nt this look beautiful??

All in all - a wonderful adventurous team outing, spending 2 days in the wilderness - was simply awesome!