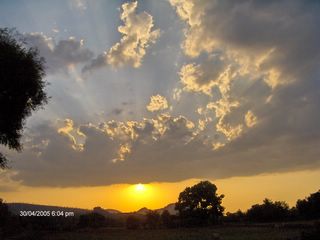 End of a long n exciting day!

Jaladhaama - Cauvery island resort. That was our destination on saturday. It was really hard to wake up all the guys as early as 6am in the morning. The plan was to leave by 7-30, but it was 8-45 when we eventually left after much discussion about where to have breakfast! The drive was great! One can imagine the adrenalin levels when the car stereo is playing
Master of puppets
and all the occupants are singing along at the highest decibel level possible! :-) The whole journey was all about playing core metal songs and singing along without giving a fuck to the world around. One needs such a ride from time to time. There was so much done at the resort. 2 hours in the swimming pool, playing cricket in the water, a game of volleyball in the hot sun, then basketball, table tennis. We had a late lunch at 3 and slept like dogs on the hammocks that were present everywhere around the place. The one hour boat ride was superb. The water was so clear and sparkling. Mind you it was very deep though! We got wet with our clothes on below the waterfall. Fully rejuvenated, we left the place at 5 and reached back at 8. There was a tree that was cut in a very peculiar fashion. It resembled a middle-finger! :-))
Looking back on the fantastic weekend, I forgot all my worries and tensions and now am back to work with a fresh outlook...